About Us
CRANEtrol® is a complete line of overhead crane and hoist controls developed by Foley Material Handling Co. Inc. in Ashland, Virginia. Building on over 35 years of direct crane industry experience, Foley Material Handling developed CRANEtrol® control systems specifically for the overhead crane and hoist business.
In 1982 Foley Material Handling was one of the first firms to successfully apply variable frequency drive to a load brake hoist. The original system is still in service today!
The CRANEtrol® product line includes:
variable frequency inverter and vector drives
conventional single and multiple speed controls
controls for DC
control systems for wound rotor motors
radio controls
many options to enhance safety, efficiency & productivity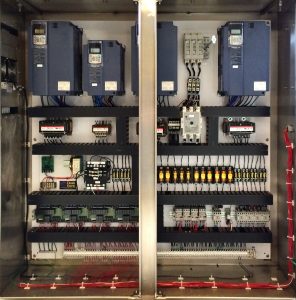 CRANEtrol® controls are available as components, as panels or as complete systems that include all of the standard and custom features required for your applications.
Our policy at CRANEtrol® is to build the best controls in the industry and our volume purchasing allows us to do so at a reasonable price. We use only proven, name brand, industry standard components and we insure that our production quality is the best. We know overhead cranes and we build controls specifically for the crane industry. Three series of CRANEtrol® controls, the Feature Series, the Value Series, and the Economy Series, are available to meet the full range of specifications and budget requirements.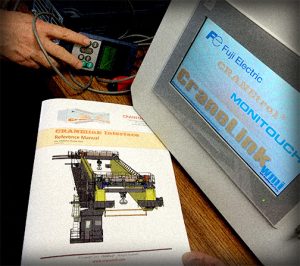 Our CRANEtrol variable frequency inverter and vector control units are programmed with our special crane application software. Our torque proving, brake proving and other safety features set us apart from standard industrial drive manufacturers. We offer CRANElink® software to allow a PC or laptop computer to communicate with our inverter and vector drives for set up, adjustment and trouble shooting.
Our CRANEtrol® wireless controls are available in many configurations ranging from simple motions to variable speed operation and control of multiple accessories. Available in both licensed and unlicensed versions, the radio controls contain the latest digital technology to insure safe and reliable operation.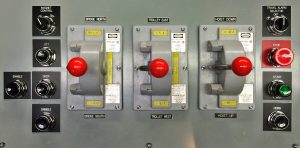 CRANEtrol® engineers and technicians are skilled in designing and manufacturing controls for special or unusual applications. We regularly produce systems for special environmental conditions, in special panel sizes, and for special service requirements. We build custom controls for retrofitting existing equipment as well as for new crane and hoists.
Please contact us for your overhead crane and hoist needs. We look forward to discussing your application and then providing you with the control system best suited to do the job safely, efficiently and reliably.